The Guinea LNG Project
Guinean industrial, mining, agricultural and residential sectors suffer from severe lack of energy.  Unavailability of competitively priced energy forces Guinea to monetize its valuable resources as raw materials at suboptimal prices.
West Africa LNG Group is in the process of establishing a comprehensive and transformational Liquefied Natural Gas ("LNG") provision and distribution network in the Republic of Guinea (the "Guinea LNG Project.")
LNG Receiving Terminal and Distribution Network
The Guinea LNG Project would comprise building a large-scale LNG Receiving Terminal, storage tanks, high-capacity regassification units and distribution infrastructure. In this phase, imported LNG will be stored in holding tanks and will be distributed to the end users either through a pipeline after being regassified or via cryogenic trailers /ISO tanks in liquid form to be regassified at final destination ("virtual pipeline.")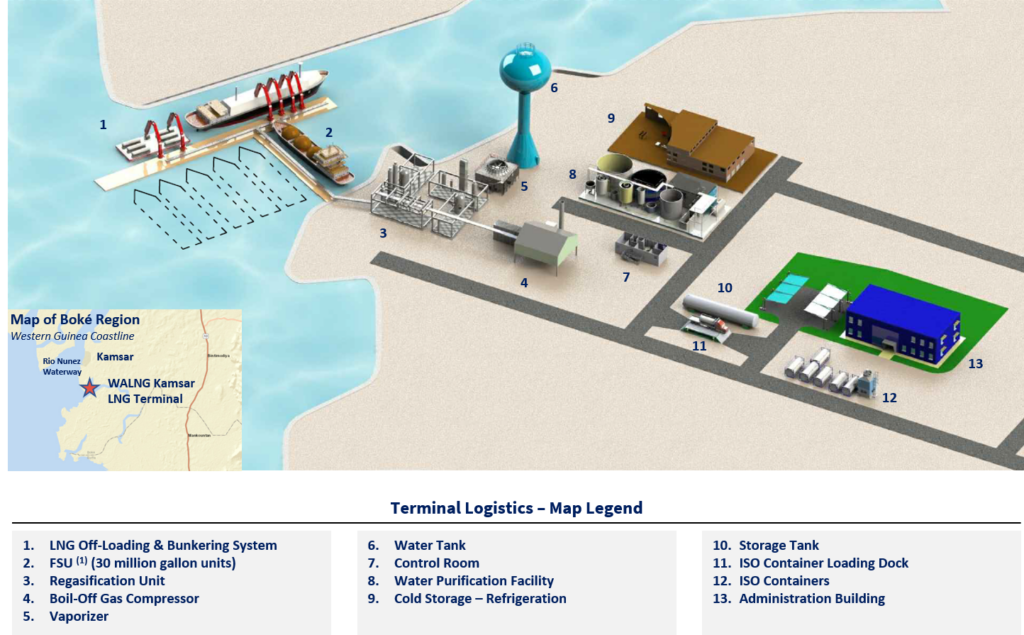 Distribution Network
The terminal is strategically located to serve customers in Boké, Bel Air and Boffa Regions.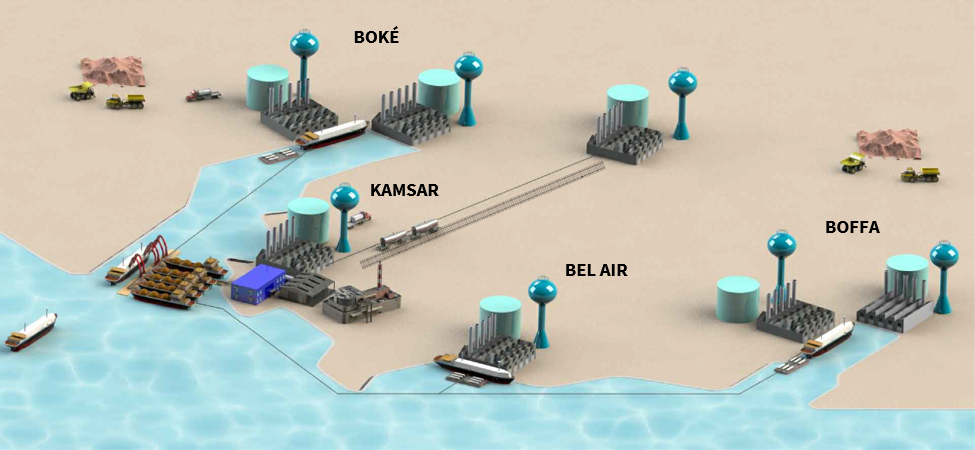 | Deep Channel Access | Proximity to Customers | Scalability |
| --- | --- | --- |
| Sizable location in close proximity to the deep-water channel to allow large LNG transport ships to deliver product | Twenty-five (25) hectares of industrial land centrally located to mining companies with large energy demand | Ability to expand terminal capacity to meet substantially greater demand from one location |
The Guinean economy would significantly benefit from a reliably supplied and competitively priced LNG as a major source of energy to help create greater value-adding facilities.
Guinea LNG Project will improve the lives of millions of Guineans by providing the country with an abundant supply of LNG through a comprehensive strategic plan.
In addition to bringing commercial quantities of competitively-priced LNG to Guinea through a large scale LNG receiving terminal, WA-LNG will also provide customized "last-mile" solutions to bring natural gas as an affordable and environmentally sustainable source of energy to large-scale industrial enterprises as well as small businesses and ordinary families throughout the country. The customized solution may be through pipeline, barge, railway, or power transmission.