Ambassador Patricia Moller, Chairwoman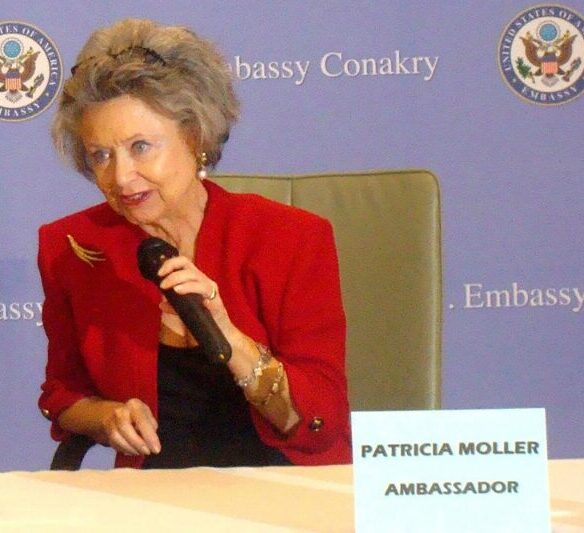 Following a highly-awarded 25-year diplomatic career, Ambassador Patricia N. Moller left active service with the U.S. Department of State to return to the private sector. Under the umbrella of her Moller Global Advisory LLC consultancy, she has counseled a number of corporations, including Fortune 500 companies, seeking guidance on doing business in developing countries, many of them in Africa.
She has advised on business development, agriculture, and extractive mineral and metal matters and on engaging effectively with governments. During the 2014 West African Ebola crisis, she was one of four founding members of the Ebola Private Sector Mobilization Group that consolidated and rationalized the efforts of groups from both the public and private sectors who were committed to assisting victims, arresting the disease and restarting economic activity in afflicted zones.
Ambassador Moller serves as Vice Chairman of the Board of Directors of West Africa LNG Group.  She sits on the Board of Directors of Hyperdynamics, chairing its Foreign Affairs Committee, on the Board of Directors of Orbis International and on the Board of Directors of Orbis UK. She is a member of the Board of Advisors of the Initiative for Global Development, and for the Global Situation Room.  She acts as senior advisor to the Business Council for International Understanding.  She is a judge for the Young Africa Leadership Initiative – YALI — grants awarded to entrepreneurs through the U.S. Africa Development Foundation and for the Lexlead Group annual scholarship competition.
The Ambassador's diplomatic career was distinguished by service largely in developing countries with challenging political environments. During the Balkan conflict that ended only after the 1999 NATO bombing, Ambassador Moller was central to maintaining Embassy operations during three turbulent years, finally shepherding the U. S. Ambassador and senior Embassy officers onto a U.S. Navy jet the morning before the bombing began.
As Country Officer for Vietnam, she directed negotiations that reestablished U.S. – Vietnam diplomatic ties. In the Republic of Georgia as Deputy Ambassador, she guided Embassy Tbilisi's support to the Georgian democratic process during the tempestuous days of the Rose Revolution.
In Guinea, her leadership and engagement are credited with averting civil war, persuading Guinea's military ruler to step down, and with success of the electoral process.  For her commitment and accomplishment she was awarded a Presidential Service Award and the State Department's Robert Frasure Award known as its Peace Prize, and was invested by the President of Guinea as a member of the National Patriotic Order of Guinea, rank of Commander.
Before joining the Department of State, Ambassador Moller worked as an investment banker with Smith Barney Harris Upham. She earned a BA honors degree in history, receiving her degree from the University of Tampa.  Ambassador Moller speaks German, conversational French, and elementary Serbian and Russian.
Dr. Mima Nedelcovych, Vice Chairman

Dr. Nedelcovych is the Founder and CEO of AfricaGlobal Partners, a strategic consulting firm focused on project development, project finance, trade facilitation, and public-private partnerships in developing countries, with a particular focus on Africa.
AfricaGlobal Partners is a boutique consulting firm closely allied to Schaffer International, where Dr. Nedelcovych has returned to the position of Chairman.  In both capacities, he provides advisory services to a number of corporations with interests in agro-industry, renewable power, oil and gas, and major infrastructure investments. He has also provided advisory services to a number of African governments, US government agencies and international financial institutions.
Dr. Nedelcovych is the past President of the Initiative for Global Development (IGD), a nonprofit organization that engages corporate leaders to reduce poverty through business growth and investment in Africa.  In the four years of his tenure as President & CEO, he has markedly grown the African SME participation in the Frontier 100 Leaders Program, and expanded IGD's Advisory capacity and Advocacy mission to strengthen the voice of private sector leaders on development issues.
Prior to taking up his position at IGD, Dr. Nedelcovych was a Partner at the Schaffer Global Group (SGG) and became Chairman of Schaffer International, the successor company to SGG. For the Schaffer Group, he led the new project development and financing for a number of agro-industrial projects in Africa and Central America (primarily in the cane sugar and rice sectors) and was the lead Partner in the establishment of the Markala Sugar Project in Mali, serving as the Chairman of the Société Sucrière de Markala.  To represent Schaffer's interests, he was «seconded» as Country Director of Buchanan Renewables (BR) in Liberia, a renewable energy business based on biomass harvested and processed from old economically redundant rubber trees.
Dr. Nedelcovych served in the Administration of President George Bush from 1989 to 1993 as the U.S. Executive Director to the African Development Bank (AfDB) in Abidjan, Cote d'Ivoire. He was instrumental in formulating and executing the "private sector initiative" at the AfDB, including the African Business Roundtable and the African Export-Import Bank.
Prior to being named Executive Director to the AfDB, Dr. Nedelcovych held the position of Principal at Arthur Young's International Consulting Group, specializing in privatizations and private investments in Africa.
At the beginning of his career, Dr. Nedelcovych served in the US Government as Peace Corps Country Director in Gabon, as Special Assistant to the Assistant Administrator for Africa at USAID, and as Special Projects Officer at the US Trade and Development Agency.
Dr. Nedelcovych is on the Board of Directors of Schaffer International, Vista Bank Group, Marathon International Bank, Fayus Group, the Corporate Council on Africa, and Niger Delta Partnership Initiative (NDPI).  He is a Member of the US EXIM Bank's Sub-Saharan Africa Advisory and a former Member of the MCC Global Advisory Council.
Dr. Nedelcovych received a BA in Political Science from Yale University, an MA in International Relations from George Washington University, and a Ph.D. in Comparative Political and Economic Development from Florida State University (in conjunction with Mohamed V University in Morocco).  He speaks French, Spanish, Italian and Serbian fluently, and has a working knowledge of Portuguese.
Hon. Ibrahima Sory Camara, Director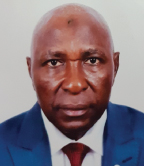 Honorable Ibrahima Sory Camara has had a long and illustrious career as a public servant working at the highest levels of the Guinean Government for over 31 years. In his last post, Mr. Camara served as the Chief of Staff to the Prime Minister.
From 1996 to 2000 Mr. Camara served as Ambassador of Guinea to Malaysia.  His leadership is widely credited for the strong relationship established between Guinea and Malaysia during Mr. Camara's ambassadorship.
Before joining the Ministry of Foreign Affairs, Mr. Camara worked as a geologist in General Directorate of Mines and Geology in Guinea where he created new and innovative training programs regarding the evaluation techniques and feasibility studies for mining projects.
Mr. Camara served as the Executive Director of Guinean Chamber of Mines where he represented Guinean mining companies in various international labor meetings as well as working closely on projects funded by global economic development organizations such as World Bank and was a member of the Steering Committee of Guinea Extractive Industry Transparency Initiative.
Following his public service, Mr. Camara has recently returned to private sector providing consulting and advisory services to international mining entities as well as Mano River Union, Ecowas and African Union.
Mr. Camara has earned a Masters Degree in Geological Engineering from the University Polytechnique Gamal Abdel Nasser de Conakry and Institut des Mines de Boke in Guinea and completed an advanced training program in mineral economy at the Tucson State University in  Arizona.
Mr. Camara is fluent in French and English.
Alpha Ousman Camara, Director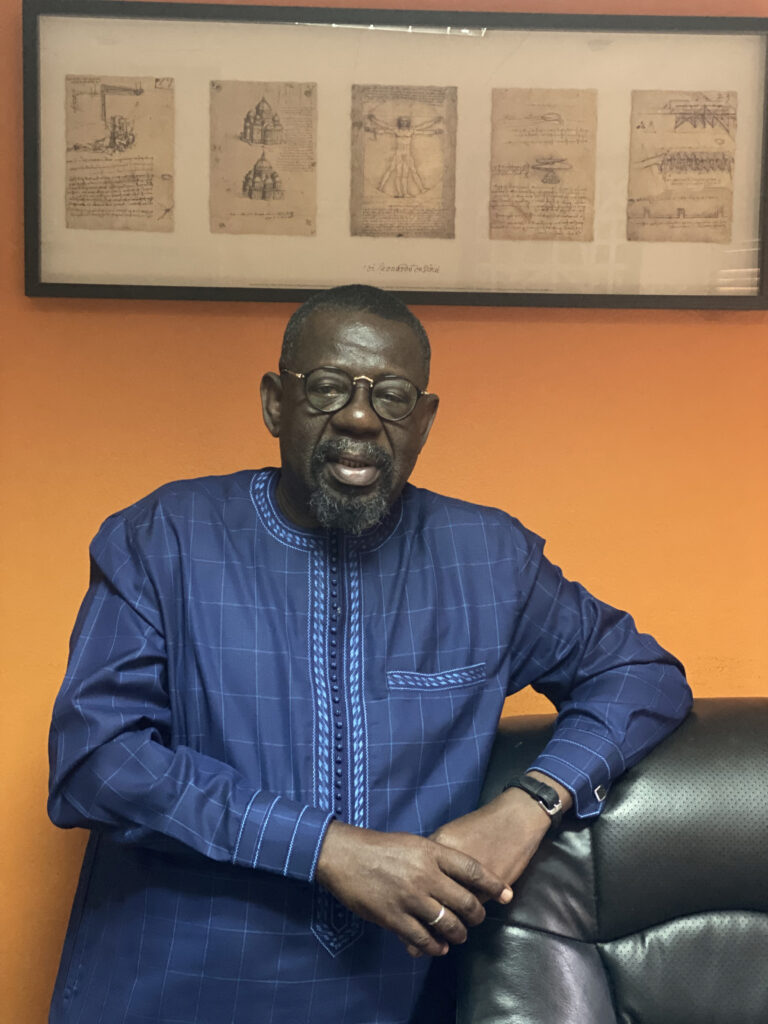 Mr. Alpha Camara is one of the most renowned architects in Guinea. Founded in 1989, Mr. Camara's firm "Cabinet Alpha Ousman CAMARA" provides architectural and consultancy services to some of the most important clients including the Government of Guinea.
Mr. Camara and his firm have been commissioned by the Government of Guinea to build a number of high profile government buildings such as the Central Bank of Guinea Headquarters and Research and Training Center, Guinea National Electric Company, The World Bank Office in Guinea, Department of Justice National Directorate of Public Contracts, twenty different buildings for the Department of National Defense as well as two luxury hotels – Hotel Havana and Hotel Kaloum.
Mr. Camara has also designed, built and renovated many structures of significant importance throughout Africa including the renovation of IFAD Headquarters in Segou, Mali, Guinean Embassy in Lome, Togo, relocation of the villages in Manantaly, Mali, renovation of the Clinic Hubert in Dakar, Senegal, cold storage facility in Libreville, Gabon and a 5-star hotel in Accra, Ghana.
Mr. Alpha Camara has received an Engineer of Architecture degree from the University of Kharkov in 1983.